Posts for tag: celebrity smiles
By Washington Dental
January 17, 2020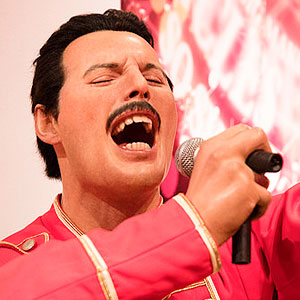 The movie Bohemian Rhapsody celebrates the iconic rock band Queen and its legendary lead vocalist, Freddie Mercury. But when we see pictures of the flamboyant singer, many fans both old and new may wonder—what made Freddie's toothy smile look the way it did? Here's the answer: The singer was born with four extra teeth at the back of his mouth, which caused his front teeth to be pushed forward, giving him a noticeable overbite.
The presence of extra teeth—more than 20 primary (baby) teeth or 32 adult teeth—is a relatively rare condition called hyperdontia. Sometimes this condition causes no trouble, and an extra tooth (or two) isn't even recognized until the person has an oral examination. In other situations, hyperdontia can create problems in the mouth such as crowding, malocclusion (bad bite) and periodontal disease. That's when treatment may be recommended.
Exactly what kind of treatment is needed? There's a different answer for each individual, but in many cases the problem can be successfully resolved with tooth extraction (removal) and orthodontic treatment (such as braces). Some people may be concerned about having teeth removed, whether it's for this problem or another issue. But in skilled hands, this procedure is routine and relatively painless.
Teeth aren't set rigidly in the jawbone like posts in cement—they are actually held in place dynamically by a fibrous membrane called the periodontal ligament. With careful manipulation of the tooth, these fibers can be dislodged and the tooth can be easily extracted. Of course, you won't feel this happening because extraction is done under anesthesia (often via a numbing shot). In addition, you may be given a sedative or anti-anxiety medication to help you relax during the procedure.
After extraction, some bone grafting material may be placed in the tooth socket and gauze may be applied to control bleeding; sutures (stitches) are sometimes used as well. You'll receive instructions on medication and post-extraction care before you go home. While you will probably feel discomfort in the area right after the procedure, in a week or so the healing process will be well underway.
Sometimes, dental problems like hyperdontia need immediate treatment because they can negatively affect your overall health; at other times, the issue may be mainly cosmetic. Freddie Mercury declined treatment because he was afraid dental work might interfere with his vocal range. But the decision to change the way your smile looks is up to you; after an examination, we can help you determine what treatment options are appropriate for your own situation.
If you have questions about tooth extraction or orthodontics, please contact our office or schedule a consultation. You can read more in the Dear Doctor magazine articles "Simple Tooth Extraction" and "The Magic of Orthodontics."
By Washington Dental
December 08, 2019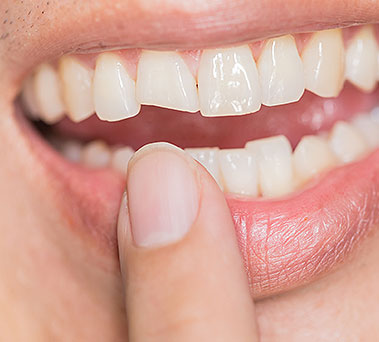 Chipped a tooth? Don't beat yourself up—this type of dental injury is quite common. In fact, you probably have a favorite celebrity who has chipped one or more of their teeth. The list is fairly long.
Some chipped a tooth away from the limelight, such as Tom Cruise (a hockey puck to the face as a teen), Jim Carrey (roughhousing on the playground) and Paul McCartney (a sudden stop with a moped). Others, though, chipped a tooth while "on the job." Taylor Swift, Hillary Duff and Jennifer Lopez have all chipped a tooth on stage with a microphone. And chipped teeth seem to be an occupational hazard among professional athletes like former NFL star, Jerry Rice.
Since smiles are an indispensable asset to high-profile celebrities, you can be sure these stars have had those chipped teeth restored. The good news is the same procedures they've undergone are readily available for anyone. The two most common restorations for chipped teeth are dental bonding and veneers.
The least invasive way to fix a chipped tooth is bonding with a material known as composite resin. With this technique, resin is first mixed to match the tooth color and then applied to the chipped area or applied in layers of color to get just the right look. After a bit of shaping, curing and adjustment, we're done—you can walk out with a restored tooth in one visit.
Bonding works well with slight to moderate chips, but it could be less durable when there is more extensive damage. For that, you may want to consider porcelain veneers. Veneers are thin wafers of dental porcelain that are bonded to the front of teeth to mask blemishes like stains, slight gaps or, yes, chips. Veneers can be so lifelike that you won't be able to tell the veneered tooth from your other teeth. They are fashioned to match the color and shape of an individual's teeth. Because of the time and design detail involved, veneers are more expensive than bonding, yet still within an affordable range for many.
Teeth require some alteration before applying traditional veneers because otherwise the teeth can appear bulky when the veneer is bonded to the existing tooth. To compensate, we remove a little of the tooth enamel. Because this loss is permanent, you'll need to wear veneers or have some other form of restoration for the tooth from then on. For many people, though, that's a small price to pay for a smile without chips.
Your first step to repairing a chipped tooth is to come in for an examination. From there, we'll recommend the best option for your situation. And regardless of which, bonding or veneers, we can change your smile for the better.
If you would like more information about restoring injured teeth, please contact us or schedule a consultation. To learn more, read the Dear Doctor magazine articles "Teeth Whitening" and "Porcelain Veneers: Strength and Beauty as Never Before."
By Washington Dental
October 29, 2019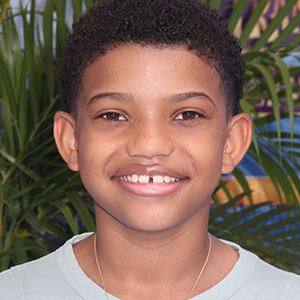 Sometimes it seems that appearances count for everything—especially in Hollywood. But just recently, Lonnie Chaviz, the 10-year-old actor who plays young Randall on the hit TV show This Is Us, delivered a powerful message about accepting differences in body image. And the whole issue was triggered by negative social media comments about his smile.
Lonnie has a noticeable diastema—that is, a gap between his two front teeth; this condition is commonly seen in children, but is less common in adults. There are plenty of celebrities who aren't bothered by the excess space between their front teeth, such as Michael Strahan, Lauren Hutton and Vanessa Paradis. However, there are also many people who choose to close the gap for cosmetic or functional reasons.
Unfortunately, Lonnie had been on the receiving end of unkind comments about the appearance of his smile. But instead of getting angry, the young actor posted a thoughtful reply via Instagram video, in which he said: "I could get my gap fixed. Braces can fix this, but like, can you fix your heart, though?"
Lonnie is raising an important point: Making fun of how someone looks shows a terrible lack of compassion. Besides, each person's smile is uniquely their own, and getting it "fixed" is a matter of personal choice. It's true that in most circumstances, if the gap between the front teeth doesn't shrink as you age and you decide you want to close it, orthodontic appliances like braces can do the job. Sometimes, a too-big gap can make it more difficult to eat and to pronounce some words. In other situations, it's simply a question of aesthetics—some like it; others would prefer to live without it.
There's a flip side to this issue as well. When teeth need to be replaced, many people opt to have their smile restored just the way it was, rather than in some "ideal" manner. That could mean that their dentures are specially fabricated with a space between the front teeth, or the crowns of their dental implants are spaced farther apart than they normally would be. For these folks, the "imperfection" is so much a part of their unique identity that changing it just seems wrong.
So if you're satisfied with the way your smile looks, all you need to do is keep up with daily brushing and flossing, and come in for regular checkups and cleanings to keep it healthy and bright. If you're unsatisfied, ask us how we could help make it better. And if you need tooth replacement, be sure to talk to us about all of your options—teeth that are regular and "Hollywood white;" teeth that are natural-looking, with minor variations in color and spacing; and teeth that look just like the smile you've always had.
Because when it comes to your smile, we couldn't agree more with what Lonnie Chaviz said at the end of his video: "Be who you want to be. Do what you want to do. Do you. Be you. Believe in yourself."
If you have questions about cosmetic dentistry, please contact our office or schedule a consultation. You can read more in the Dear Doctor magazine articles "Beautiful Smiles by Design" and "The Magic of Orthodontics."